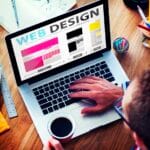 In today's digital age, website designing plays a vital role in achieving business success. A website is your online identity that showcases your brand and introduces you to the target audience. Therefore, it is crucial to focus on website designing to boost your online presence. It is an effective way to attract and engage potential customers while...
Are you struggling to create a great user experience or customer experience that stands out? UX design could be the solution. It will aid you in comprehending user behavior and creating an experience that satisfies their needs and interests them. With it, you can craft a setting that is simple to use and enjoyable. Discover the strength...
Link building is an essential aspect of search engine optimization (SEO). It is the process of acquiring hyperlinks from other websites to your website. The quality of the links that point to your website plays a significant role in your website's visibility and ranking on search engine result pages. Link...
Unleashing the power of white label SEO can be a game changer for businesses looking to dominate search engine rankings. White label SEO refers to the practice of hiring an external company such as Dwarika Web Solutions that provides SEO services to clients under their own brand name. This way,...